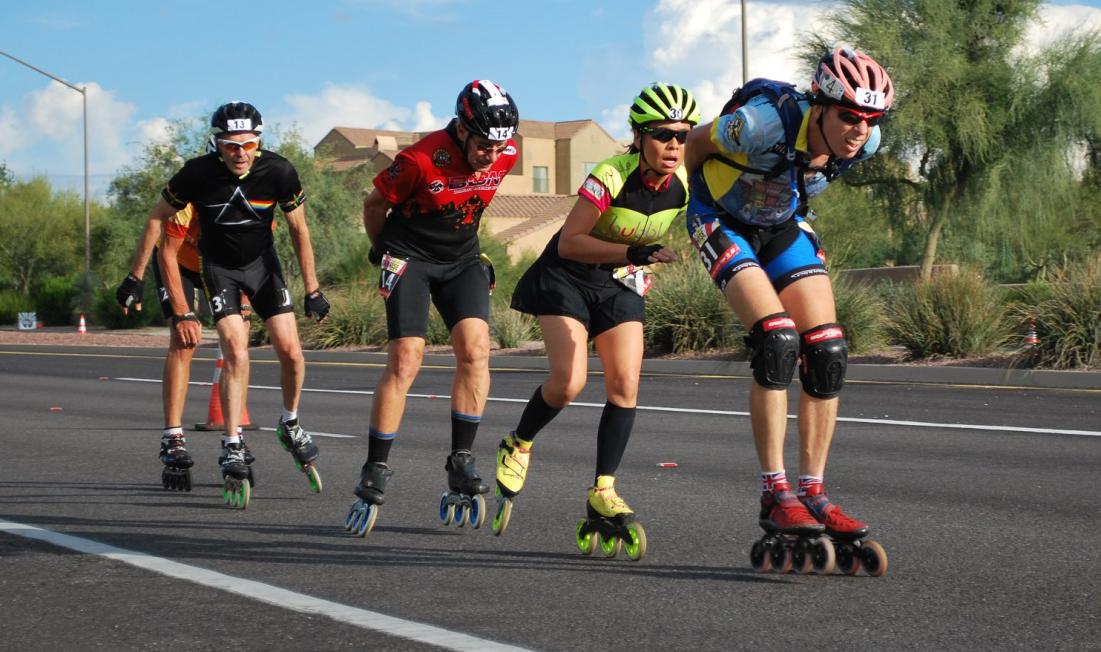 I don't think I have ever waited so long to commit to doing a race. Scheduled just one week after A2A, it fit a hole I classically have not even filled with training. It has been a time to relax and recover. A time for activities like the Merced Loop that conflict with my usual Canada Road routine. To race then would be crazy. And yet, I felt drawn to Oro Valley. They do so many things right. Travel logistics are nearly effortless. Cost is low both in direct cost and vacation time (none!). The course is both challenging and fun. And yet I kept hearing that it was in trouble. I couldn't stay away.
And so I found myself driving from PHX to Tucson on a Saturday afternoon with not yet healed road rash from the big race. I hadn't considered that possibility. I even did the Rollerblade sponsored social skate, which turned out to be a significant workout. But hey, if you're going to break the rules of race prep, there is no need to stop at one. Needless to say, I didn't expect great results.
Race day began in normal fashion. My normal, I won't bore you with the details. I met friends from near and far at the start line. Some I had met at other races this year. Others more local that I hadn't seen much of this year. This includes Veronica who I paced with at last year's race.
Time ticked down and we were off! The pace was a bit slow, limited by the pace car. The real racing didn't begin until about a mile in. At that point, I promptly fell off anything resembling a pace line. My A2A fatigued muscles didn't have much surge ability in them.
But I could still climb and the start of Saguaro is a two mile climb. As I powered up the hill I started passing people. By the time I reached the crest I had four behind me, including Veronica. I kept the lead in the rollers that followed, finally yielding to Ken Huss near the turn around. When Ken pulled off, I was back in the lead again where I didn't want to be. I yielded immediately, expecting one the the two other guys to pull. This didn't happen. Veronica took a seemingly short pull but I was back in front before we headed down.
I remembered the big decent from last year as only moderately fast but oddly destabilizing. Fresh from A2A, I wasn't going to let this hill intimidate me but I wanted answers. I found them. The pavement is lumpy. Not cracked or potholed but covered in softball diameter low rising bumps. Just like the new pavement on Canada Road. It seems to be paved in the same way. I thought I remembered it being smoother last year but I think that was just in comparison to the gatorback. As we reached the bottom and the start/stop lines it actually did became quite nice. As we rounded the turn and began lap 2, it became clear that we were now just three: Ken, Veronica and me.
I led all the way up again, then Ken, then back to me. it was still a funny downhill but we held together. As the finish line loomed, Ken went slightly ahead. Veronica and I held hands and crossed the line in an A2A style deliberate tie. 1:18 pace. Not bad. Not fabulous. Good enough for first place in a lightly contested age bracket.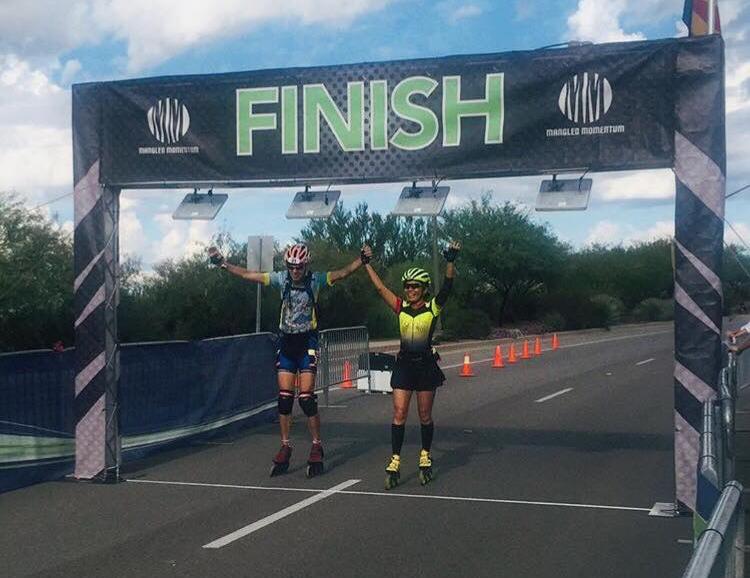 At the awards I met Ben Price, from last week's pack. We were the only one's to come here after this year's A2A and the only one's to step onto the podium on skates. He was much more graceful.
And so concludes my 2018 racing season. Seven races/seven plane tickets. Itís been a blast but also a bit overwhelming. No Silver Strand for me. I will be been enjoying the less structured time until I get the itch again. Probably sometime next spring.