[Written a couple of weeks back. Thought I'd post here before I do Chicago and forget what happened where]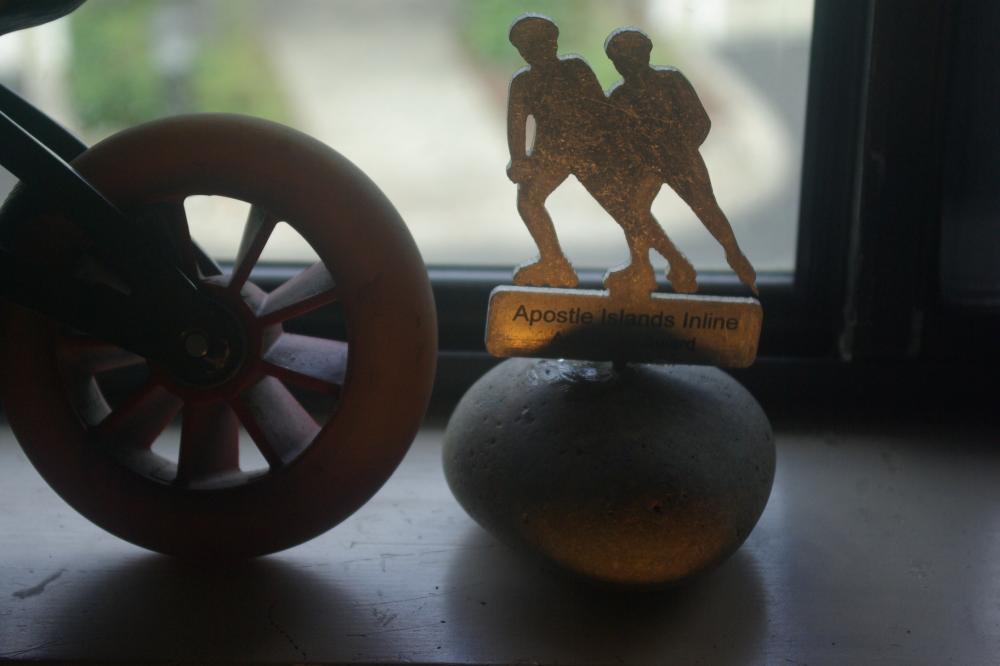 It had been five years since the first and only time I had done Apostle. I loved the course but found the travel excessive and the after-race unsatisfying. After arranging last years Northshore in a similar fashion, I decided it was time for another go.
The weather leading up to the 2013 race was a big question mark. 2018 was no different. Packing the rain wheels was a no brainer. Mounting them was nearly a coin flip. The night before there was an 80% chance of rain at 6:00am. I vowed to swap the rain wheels in but forgot to execute on the plan. I walked down to the ferry at 6:00am with dry wheels on dry pavement. On the walk to the start line, I could see one small dark cloud but it didnít look like much a threat.
Prep was largely normal. My normal, not necessarily other people normal. Unusually, I positioned myself very close to front. I nearly always start too slow and spend too much energy trying to catch up. I was not going to let it happen this time.
And it didnít. I zoomed into a no-manís land in front of the main pack. I burned prodigious energy until the main pack finally caught up and then I had to burn more to get back in. We met pro women, which is always a bit messy since they arenít supposed to cross draft. People fell off. By half way through the first lap, the front pack was significantly smaller. It felt like constant accordion which is odd because the pack wasnít that big. Whatever the cause, it required a lot of energy just to hang. I took the turn into start/finish a bit too slow. The pack that wouldnít accelerate at the start took this pass fast. I lost them.
I met one straggler, pulled for while and then dropped back to let him take a lead. This lasted seconds until he hit me in the knee. I wasnít injured but it was clear that a back kick like that would make drafting non-useful. I gave up and re-took the lead. It was about this time that I realized that something had gone wrong in prep. I forgot to put my on my sweat cap and now I was getting sweat dripping into my left eye. This problem would dog me for the remainder of the race. The cap was actually in the bag I was wearing but I could not get it without stopping and losing a lot of time.
Maybe a mile before the start/stop turn, my drafter left to chase some a pair of fast skaters, proís presumably, who passed by. He never caught them but I didnít catch him either until much later.
I passed through start/finish on lap 2 just before pro 50+ finished. Probably two miles into lap 3, the second pack from Rec/Fitness finally caught up with me.
It was good to have some draft but my left eye was still giving me hell and the pack dynamics were strange. The front was mostly women, including Britney, who mostly rotated among themselves. Were some of them pros and not wanting to cross draft? The pace was often very slow. Sometimes the men, including Mark Randle and myself, would attempt to pull for a while but the women didnít want to merge. After getting some rest I did a long pull within three miles of the finish to kick up the pace. At the end, the women surged and took the turn faster than I didnít care much. We werenít competing. Then Mark Randle surged around me. We werenít competing either but I wasnít going to let that stand. I countered and beat him by a whopping one second.
At the end, I didnít know if I second or fifth. Thatís the nature of the citizen categories. Unless you actually know the people, it is never clear who your competition is. What I did know is that I managed to finish the race without a drop of precip to worry about. But the clouds looked thicker than I remembered from before race. My left eye still stung too. Less than 15 minutes after I crossed the line, drip drip drip. It wasnít serious but we went for cover anyway. A couple minutes later, it became serious. The slower racers got soaked.
Early results were pretty messed up. It seems the timing company was used to tracking runners and had a filter to catch lap times were not humanly possible for runners. It seems my first lap was a little too fast. I still didnít know if I was second of fifth until the somewhat delayed (by timing and weather) award ceremony. It turns out I wasnít either. I was first! My first trophy, ever. Most of it is a rock but it is a good rock, even if it did cause a minor delay at the airport.
While I like my rock, the truth is my possessing it is more of an accident than anything else. Even though I came in first, 23 minutes before second, I would not have placed at all if I were five years younger or ten days older. Those guys came in with the pack that I lost at the close of lap 1, eight minutes ahead of me.
After the race, I scrambled to get back to my room, cleanup, and bee-line to MSP. Five years ago, I stayed in Ashland until morning and essentially wasted time while getting bored. This time I had to leave earlier than I wanted to. Iím not sure there is a balance but Iím up for looking for it again next year.